Invisalign in Los Gatos Ca
The clearly invisible way to straight teeth
Whether you have minor corrections of crowding or spaces, or need to move your teeth more, Invisalign is a great choice! For more information call you Los Gatos Dentist today.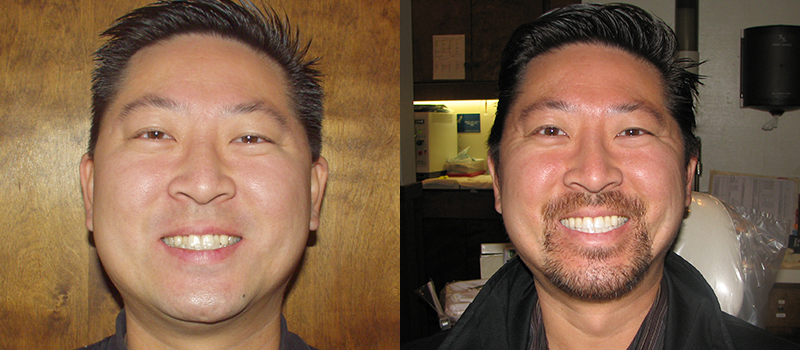 Adrian had traditional braces as a teen but his teeth were somehow never finished. He decided to give Invisalign a try and after one year he was very pleased with his results.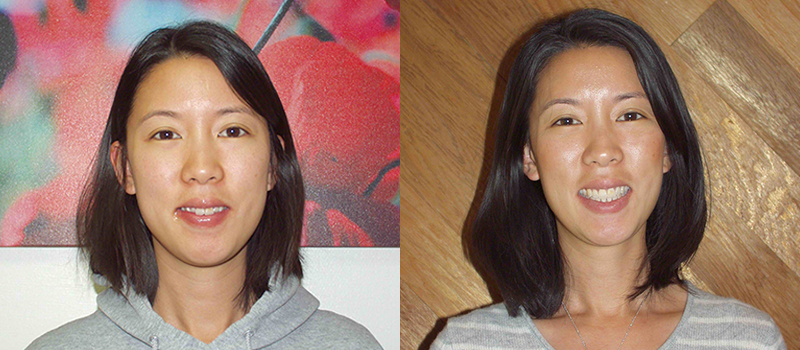 Cynthia – her teeth were crowded to the point where they were overlapping. Her case took less than two years and did not require any metal wires or brackets.
What is it?
"Invisible Braces". It is a series of computer-designed removable clear plastic trays which straighten and align teeth. The company, Align Technologies, is based here in Santa Clara County.
How does Invisalign work?
Patients wear the plastic trays for at least 22 hours a day, taking them out only at meal times and while brushing and flossing. There is a series of trays; each progressively moving the teeth about 0.25 mm every 2 weeks.
Will it work on everybody?
Invisalign can work on most cases of crowding, spacing, and rotations. It is currently only approved for use on patients with all their adult teeth (therefore, we cannot use it on children with mixed dentition).
How long does it take?
Treatment time can vary between 6 and 18 months, most cases take only 12 months.
It looks like a bleaching tray, what is the difference?
Although it looks similar to a bleaching tray, it is very different. It starts with a very exact impression of your teeth which is scanned into a computer. A software program uses this information along with our prescription to form a 3D computer-simulated moving model. The final result is sent to us electronically and the case is reviewed by you and the doctor. Once approved, we order the series of trays which the computer generates through CAD-CAM technology.
Are there any patients this can't help?
Patients with jaw discrepancies (severe overbite or underbite) may not be candidates for Invisalign. Invisalign works by moving teeth. If jaws are misaligned then surgery and conventional braces would give the best results. Also patients with any primary (baby) teeth are not candidates at this time.
What is the difference with conventional braces?
Conventional orthodontics work by moving all the teeth attached to the wire out and then bringing them into position. Most cases can take 24 months. The computer-generated Invisalign trays allow us to maintain the position of the teeth which don't need to be moved, thereby shortening the treatment time.
Can Invisalign make a difference with the treatment I already need?
If you are considering veneers on your front teeth to lengthen and close spaces or implants or bridges to fill in a space where a tooth was lost, Invisalign can be a great benefit. It can help to properly align teeth, giving a much more stable bite and better esthetics. In some cases, the space can be closed with Invisalign, thus ending the need for other treatment in that area.
If you have any other questions not answered her or to see if you are a candidate ask us about a free-consult.

We care
We live and work in Los Gatos so we understand our community, so we understand your community and its history, plus we know the area's unique character. We believe in rewarding and long lasting relationships with patients. We pledge excellence in all we do and we look forward to helping you make the most of your smile for the years to come.
We listen
We are a dental practice devoted to restoring and enhancing the natural beauty of your smile using conservative, state-of-the-art procedures that will result in beautiful, long lasting smiles! When you visit our office, your dental health is our top priority. Our highly trained staff of dental professionals are here to provide you with the highest quality of care for your dental health.
We treat you the same way we want to be treated
You will find the atmosphere here friendly, our accommodations comfortable, and our technical services exceptional. We provide you with dental care that can enhance the quality of your life; as such, we are proud to offer you complete dental care at a time convenient to you, in one convenient location.
If you have a dental problem, please call us at 408-395-1121 or send us a message.